Adaptive Equipment Lending Program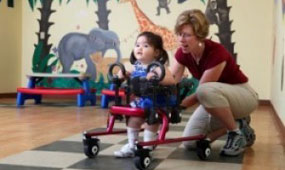 OLV Human Services maintains a robust adaptive equipment lending program to be used by children in the community of all ages with developmental disabilities.
The goal of this program is to provide needed equipment to individuals for use at home with an active therapist and must be approved through the New York State Office for People With Developmental Disabilities (OPWDD).

Available Equipment
The types of equipment available for loan include Mobility Devices (walkers, Kid Karts, scooters) and Positioning Devices (Tumble Form, Rifton chairs, standers).
Available equipment is constantly changing. Please contact us for an up to date list of equipment.

Loan Period
The loan period is 6 months. The date the equipment is due back will be written on the equipment loan form. If after the 6 month the Therapist determines the equipment is still needed; he/she can contact the loan program to request a 3-month extension.
Eligibility
The loan program is funded by WNY DDRO Family Support Services and equipment is to be used by individuals with developmental disabilities who are eligible for services through NYS OPWDD. All requests must be signed by the client's physical therapist or occupational therapist and approved by their Care Coordinator.
Download Equipment Lending Form