About Us
Residential Programs for Adolescents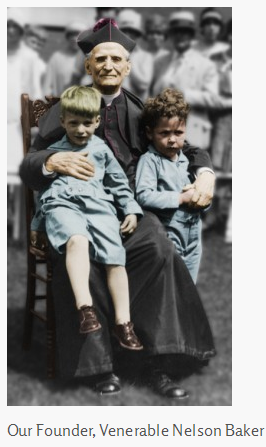 Educational Programming
Services for Individuals with Developmental Disabilities
Other Services
The evolution of Father Baker's extensive social-service programs, OLV Human Services, continues to care for individuals and families as it did many years ago. Acknowledged as a leader in the field of behavioral health care for children and adults, OLV Human Services offers a wide range of programs providing specialized therapy and care for those facing challenges. Programming includes:
RESIDENTIAL PROGRAMS FOR ADOLESCENTS
Provided through the New York State Office of Mental Health (OMH), Residential Treatment Facilities offer specialized, around-the-clock care for males and females (ages 12 to 21) whose needs are such that they must be placed outside the home. These residents are treated by a multi-disciplinary team for problems due to interpersonal, emotional, psychiatric, social, family or educational issues. The program provides discharge planning and transition services to facilitate residents' smooth transition back into the community.
The Special Services Program is designed to meet the needs of boys experiencing severe emotional, behavioral, social, and/or family problems, requiring institutional placement. It provides a highly structured, closely‑supervised, therapeutic environment designed to help residents deal with their traumatic experiences, interpersonal relationship problems, and behavioral and emotional difficulties, while helping them to develop more socially‑appropriate behaviors.
The Multiple Diagnosis Program (MDP) is designed to meet the needs of eight boys between the ages of 12 and 18, with deficits in cognitive and/or adaptive functioning, along with severe emotional, behavioral, social, developmental, and/or family problems, requiring them to be placed outside of their homes. It is licensed through the Office of Children and Family Services (OCFS) and provides a highly structured, closely‑supervised, therapeutic environment. The care and treatment of youths in the MDP is behaviorally focused and individualized to address their unique needs and particular developmental concerns.
BVS operates a Group Home Program for young girls and expectant mothers (ages 12-18) and their children. Residents develop a treatment plan with the group home director and are expected to be actively involved in the healing process including participation in parenting groups and mother-child developmental play sessions. Integration or reintegration into the community is a major focus of the program.
EDUCATIONAL PROGRAMMING
The Early Childhood Programs of OLV Human Services were founded in 1971 and follow a long tradition of providing the highest level of care to all members of the community. With two locations -- at Monarch on Ridge Road in Lackawanna and on St. John's Parkside in South Buffalo -- the Early Childhood Programs are available to all children from birth through five years old. Specialized programming is available for children facing educational challenges or other developmental disabilities.
OLV Human Services students are welcomed by an educational setting that is safe and productive. Within this environment, staff members work to build students' confidence and skill sets in the areas of independence, mastery, generosity and belonging. Programming is available to children and adolescents between five and 21 years of age and is certified by the New York State Education Department (NYSED).
SERVICES FOR INDIVIDUALS WITH DEVELOPMENTAL DISABILITIES
Medicaid Service Coordinators (MSCs) work with family members and community-based resources to help link needs with services. Service Coordination is provided to individuals with developmental disabilities including intellectual disabilities, autism, epilepsy, cerebral palsy, neurological impairments, and traumatic brain injury over the age of 3 whose daily living activities are hindered by their disabilities.
OLV Human Services has a continuum of living opportunities designed for individuals of all ages who have mild to profound developmental delays, multiple physical disabilities, specialized medical needs, dual diagnosis and dementia. For all of our residents, an individualized plan of services is developed, which may include: Intensive Medical Services, Nursing Supports, Therapy Services, Apartment Living, Person-Centered Planning and Supports, Behavioral Supports, Wellness and Nutrition Training, and Dementia/Memory Care.
OTHER SERVICES
Some children cannot live with their parents due to emotional and/or behavioral problems, or their parents' inability to function as caregivers. OLV Human Services offers the best place for these young people to be — in a family, within a community and in an environment where they can receive the loving attention they need. OLV Human Services provides a safe, temporary place for children until they can be reunited with their birth family, a relative, or be adopted.
Community Based Preventive and Wraparound Services care for families referred to OLV Human Services by the Erie County Department of Social Services. These families may be experiencing difficulties related to poor parenting, interpersonal problems, educational issues, alcoholism, drug abuse, violence, or sexual abuse. The goals of the programs are to preserve the family unit, avoiding placement of a child outside of the home. This is done by utilizing a home-based approach to care, offering a variety of intervention methods.
OLV Human Services Dental Center offers a wide variety of services to both the residents of OLV Human Services and the general community. The state-of-the-art complex provides high-quality, convenient, affordable and compassionate care to all patients.