Featured News - Current News - Archived News - News Categories
OLV Homes of Charity Receives $1 Million Gift from the Moore for Kids Foundation
Fri, Aug 12th 2016 09:00 am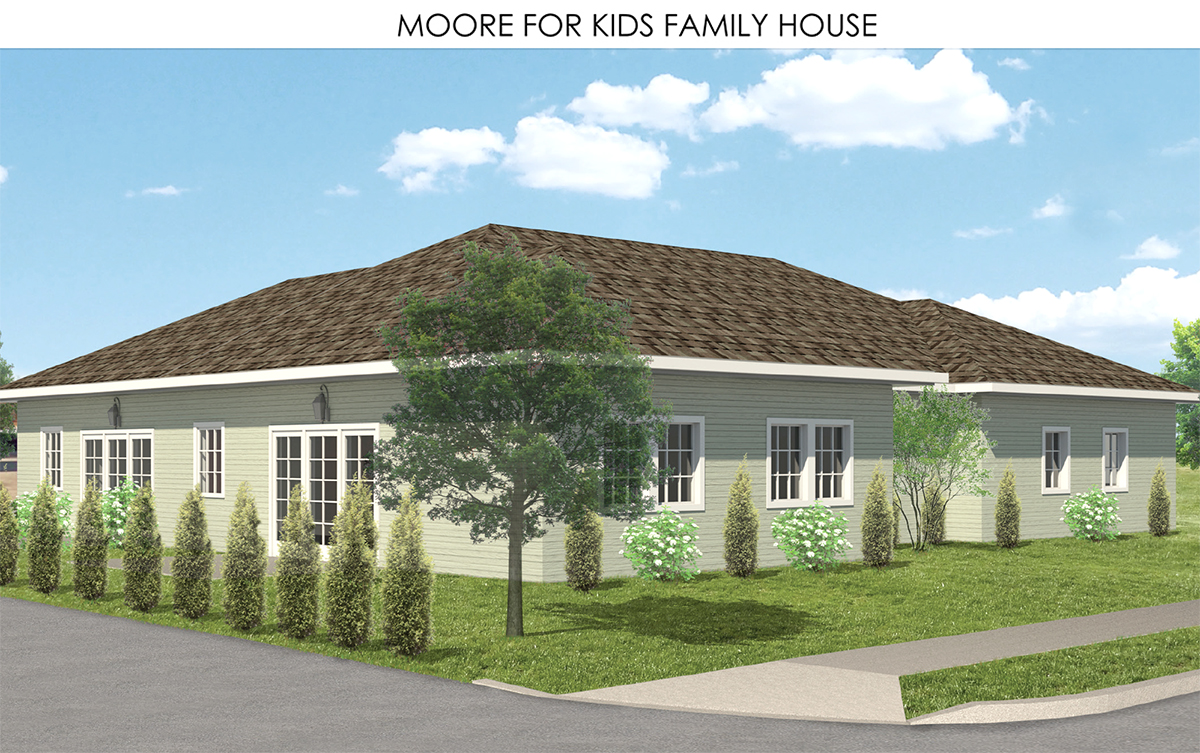 A generous gift of $1 million to Our Lady of Victory (OLV) Homes of Charity from the Moore for Kids Foundation will go toward the construction of the Moore for Kids Family House, a sanctuary for loved ones whose children are undergoing treatment at Baker Victory Services' (BVS) residential sites.
When construction is completed, the facility will provide family members who live outside the area with a place to stay while their children receive care at the residential facilities on the adjacent BVS campus. In addition, group and individual counseling sessions, focused on helping all family members better cope with the stress of living with a loved one who has a mental illness, will be available to those staying at the Moore for Kids Family House.
"We made the decision to become involved with Baker Victory Services because its mission - to love and care for those who are often overlooked due to their need for specialized care - really resonated with us," said Kristi Moore, co-founder of Moore for Kids. "As Christians, we are called to love our neighbor as ourselves, especially those who are in desperate need of help. Baker Victory Services, with its long legacy of love and care for children and adults, provided us with a great opportunity to fulfill that mission."
The facility will also be used to provide emergency shelter for children who must be removed from an unsafe living situation (by state and/or county agencies such as Child Protective Services) and are in urgent need of a place to live. In these cases, a BVS staff person will provide care for those children for the duration of their stay.
"Being able to provide families and young people warmth, comfort and safety at a time when joy may be in short supply brings us immense satisfaction," said Rob Moore, co-founder of the Moore for Kids Foundation. "The Moore for Kids Family House will allow families and children in the care of Baker Victory Services a welcoming place in which they can be at peace and heal."
The 3,100-square-foot facility will stand at 100 Martin Road in Lackawanna and consist of three suites, counselling space and a lobby area. Construction is scheduled to be completed in late summer/early fall of 2016. The current structure at the site, a 90-year old, two-story building used by the agency for administrative purposes, will be torn down.
"The generosity of the Moore family is as humbling as it is appreciated," said OLV Institutions' president Msgr. Paul Burkard. "This historic gift will allow us to upgrade our campus with an eye toward providing even better care for those children, adolescents and families that count on us each and every day."
Moore for Kids is a Cambria, N.Y., based 501(c) charitable organization dedicated to helping children and their families in times of need. Its focus is on organizations that have an impact in the local community, as well as a national presence. More information can be found at www.mooreforkids.org, on Facebook at http://www.facebook.com/mooreforkids/ and on Twitter, @mooreforkids.