Featured News - Current News - Archived News - News Categories
Artwork of Honor
Fri, Sep 30th 2016 03:00 pm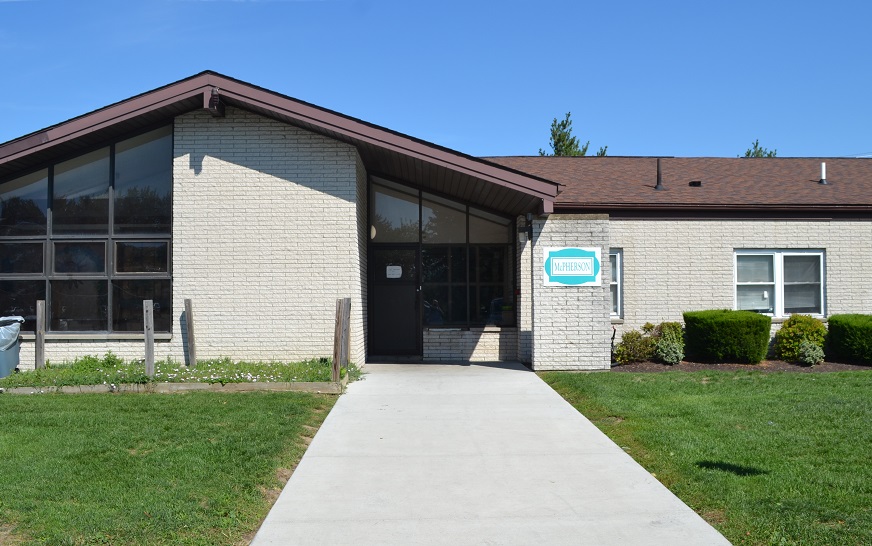 The unique chateau design of McPherson Cottage, the home of our residents in the Multiple Diagnosis Program, doesn't hold a candle to the beautiful artwork located in the dining room. The wall murals were completed by painter, Mary Ellen Adragna Bossert, and have a special connection with Father Baker. Mary Ellen's father, Peter Adragna Sr., was once a "Father Baker Boy" in the 1920's. Her artwork is a testimony to her father's heartfelt memories of his time at Fr. Baker's.
Peter was born in 1920 and lived in Buffalo with his family and younger sister, Catherine. When Peter was attending kindergarten a fire broke out in the family home. After saving his baby sister, Peter's mother perished. Tragically the children were split up and placed in several foster care situations and briefly lived at Father Baker's orphanage.
Mary Ellen recalls the stories her father told her about his time at Father Baker's. He remembers fondly the time Fr. Baker spent with the orphans in his care, placing his hand on each one's head and talking with each child. Mary Ellen remembers that Peter smiled when he told his children that he really felt like he was loved when Father Baker spent this time with him. Peter remained very close to his sister, Catherine, throughout the years.
Peter joined the Army and was involved in World War II. During his time in the service, Peter would send money home to his younger sister. He was awarded a Purple Heart for his service and upon returning home, Catherine returned all the money Peter sent to her during this time. Peter used that money to purchase an engagement ring for his future wife, Mary.
Peter and Mary remained in the Western New York area, raising four children, while Peter worked at the Ford Motor plant. Mary Ellen was the youngest of the four children and held a special "artistic" bond with her father. In his free time, Peter would work in his shop located in the basement of the family home as an "Outside Artist". He would often ask Mary Ellen's opinion on his works of art, inspiring her life as a Fine Artist, Muralist and Art Teacher.
Mary Ellen strongly believes in giving back to the community and this project was a special way to honor her father. She asked the residents and staff for their vision and what they would like to see in the dining area. The idea of a space that would be warm and inviting inspired Mary Ellen to use earth tone colors and create a bistro- like space. She added a reflection window featuring the Buffalo skyline as well as a place for the clients to display their own art work. Bossert wanted the residents to take ownership for this transformed space by hanging up paintings they created in the faculties' art class. After approximately 2 weeks of painting, many times under the watchful eye of the teen boys, the project was finally completed. . The boys named their new dining hall "The McPherson Cafe."
Carrie Jacobs, the Director of McPherson Cottage, said many of the residents prefer to use the dining room area now for playing board games and family visits despite the more comfortable seating located in another area of the cottage. There is a newfound pride in their dining room and Carrie said the teen boys make sure the dining room is cleaned after using it and they are proud to show off their beautiful area.
Mary Ellen has completed other mural projects around the Western New York area including the Hamburg Beach, the Eden Public Library, local elementary schools, and has donated paintings to the "Paint the Town" fundraiser for the Buffalo History Museum. One of those paintings auction off depicted our beloved Father Baker. Her father passed away in 2003 at the age of 83 yet, through her work, his memory will live on.
Mary Ellen can be contacted at [email protected]
Before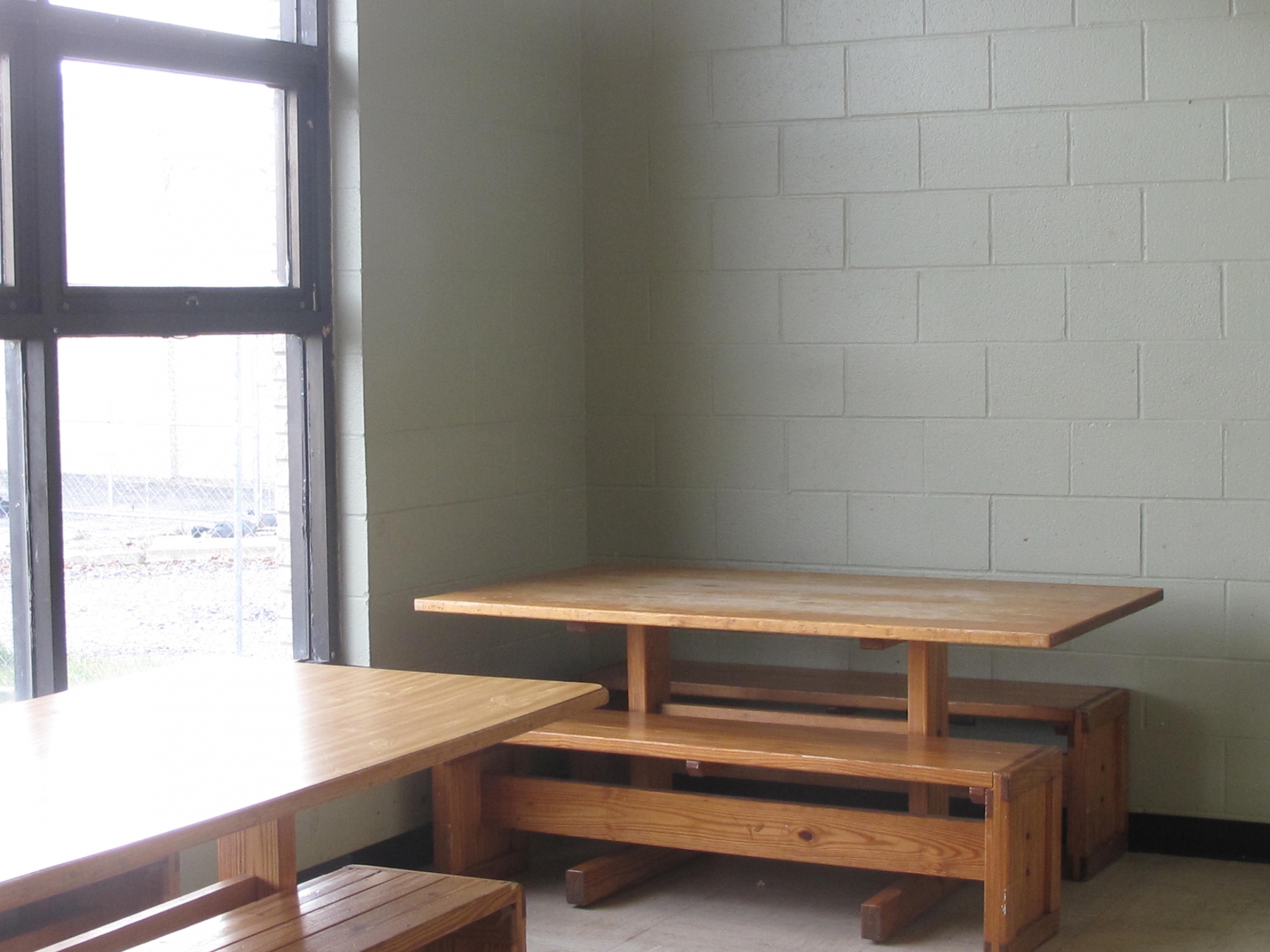 After - Painter, Mary Ellen Adragna Bossert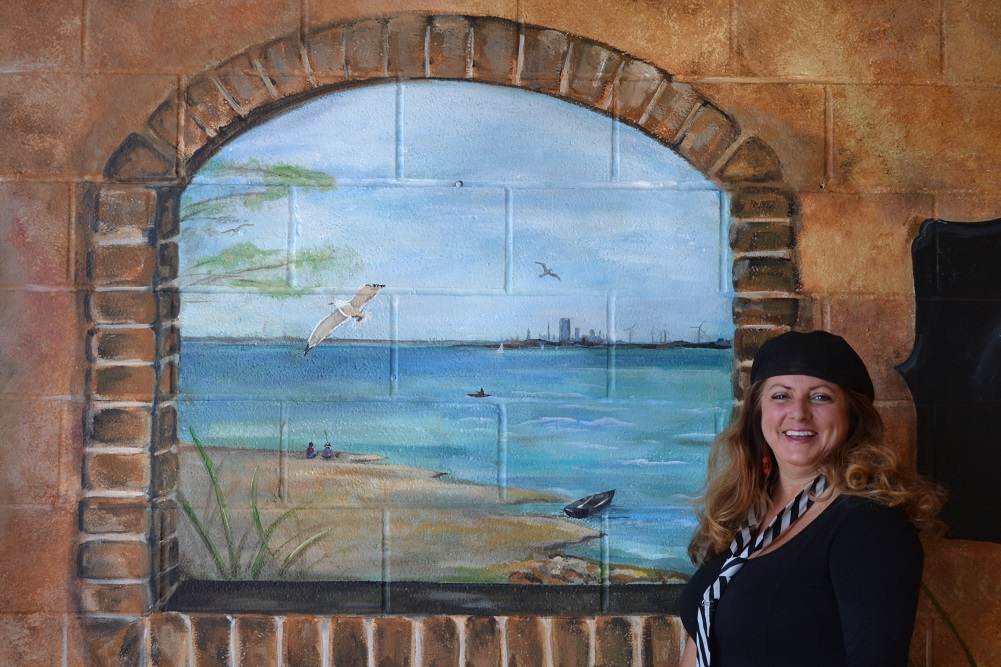 Mary Ellen with Cottage Director, Carrie Jacobs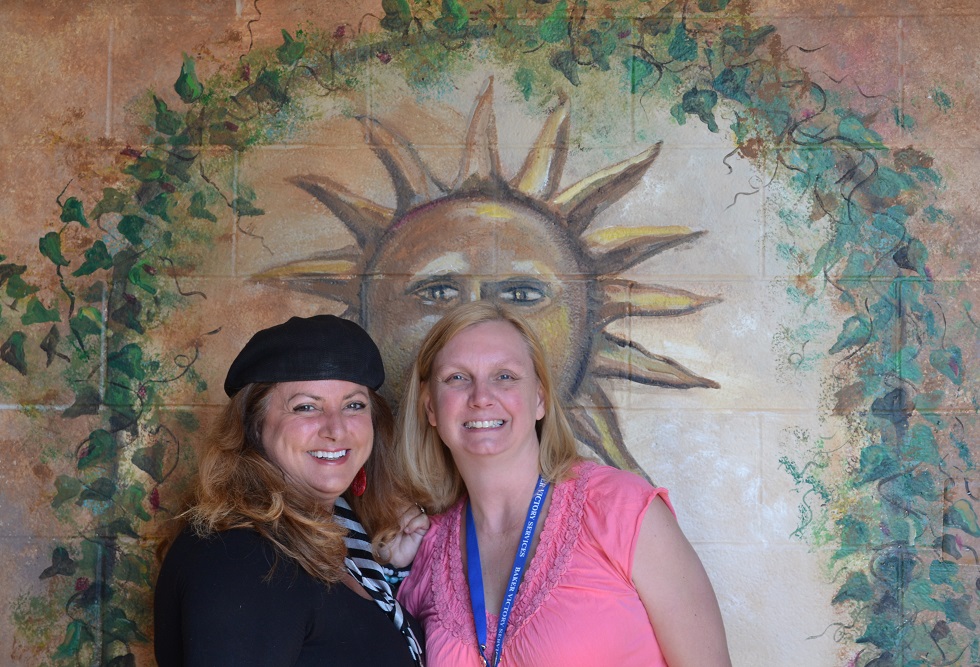 The McPherson Cafe